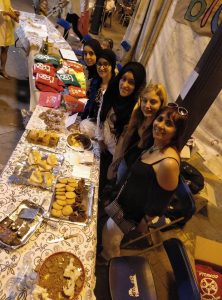 My name is Loubna Elliasmine. My friends and I participated in a Multicultural Market on September 15th, 2018 . Tambarria, a cultural association from Corella, organized the event and Biciclistas de Corella and Alhama High School collaborated, as part of Erasmus project, to set up a stall to sell countless things. Our common objective was to raise funds to buy two "trishaws" (tricycles for elderly people).
The market started at 17:00 and I contributed two cakes that don´t need to be baked and a traditional Maroccan tea and I helped to run the stall too, specifically the Arab sweets table.
The cakes are so so easy to make, you only need two ingredients, one of them are big round wafers and the other is melted chocolate. Basically what you have to do is put a wafer and the melted chocolate in layers till the last wafer, that you have to cover with more chocolate. I made two wafers cakes, one with white chocolate decoration and the other one with smashed biscuits. My mom brewed a delicious tea -she´s an expert!, and helped us all to take care of the stall. There were 3 more tables, apart from the Arab section: one with Biciclistas T-shirts, bandanas, hoodies, etc. and two more with tasty traditional sweets: rosquillas (Spanish doughnuts), chocolate cakes, cookies… Yummy!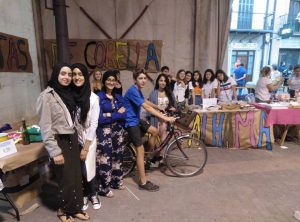 The market went great. At the beginning, it was almost empty but with the passing of time familiar faces showed up (teachers, friends, relatives) and sometimes we were surrounded by people and felt a bit overwhelmed. Most people were willing to find out who had made the sweets (our mothers helped, but I promised we worked hard too!), they wanted to try all the sweets, they showed interest in knowing where the money would go… La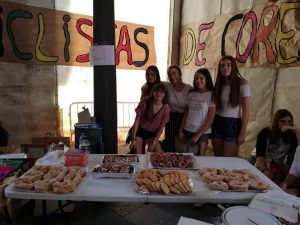 st, but not least, they bought all the sweets we had on offer and, when we put away the stall at 21:00, we had happily and surprisingly run out of everything.
It feels good to see how people of different ages are open to learning  about other cultures. We all had a good time and the market was a success.
Some key numbers:
Volunteers running the stall: 18 students and 6 adults
Hours spent in the market: 5
Money raised: 402 euros
People we met and questions they asked: countless!
Loubna Elliasmine