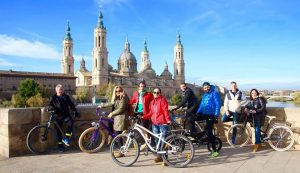 Ten bicyclists from Corella went to Zaragoza on Saturday, December 1, to attend a 6-hour theoretical-practical course to know about "Cycling Without Age" international project and to learn to pilot a trishaw.
We wanted to get to Zaragoza by train but RENFE didn´t allow 10 bikes on any train and we had to drive instead. Of course, we didn´t abandon our precious bicycles. We parked in Expo area and pedaled 3´5 km on nice bicycle lanes along Ebro river to get to "La Ciclería", right in the city center.
"La Ciclería" is a paradise for urban cyclists.  It´s a place made by cyclists and for cyclists. They fix and hire bikes, offer courses to pilot trishaws, DIY bike repair workshops… "La Ciclería" is full of ancient pictures of cyclists, old posters, hangers and coasters made of bike parts… The atmosphere is just great to help a cyclist feel at home. They have a cafeteria with plenty of fair-trade products: coffee, hot chocolate, teas, tasty pastries… Besides, they have a cozy space for assemblies and courses in the basement.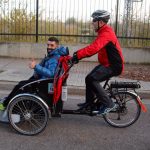 When we arrived at "La Ciclería", Arnao and Laura, our trishaws instructors,  were waiting for us. We introduced everybody, had a quick coffee on the go and went downstairs to start the theoretical training. They explained how CWA started, we watched a video and learned about the project: volunteers, insurance, community-building, tips to drive the trishaws… We asked tons of questions. 
Right after lunch the practical trishaw training started. We took our bikes and Arnao and Laura their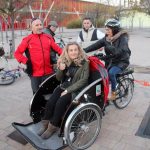 trishaw. As we had only one trishaw, we had to take turns. We all switched roles from pilot to passenger to bicyclist. We cycled along Zaragoza´s amazing cycle lane network. We got to Expo area easily, quickly and, last but not least, car-free!  There are very large and quiet spaces in that city area to practice with the trishaw.
We had lunch in a vegetarian restaurant nearby. We tried every tasty dish they offered. And the desserts were delicious!
And that´s all, folks! It was a great training with good friends that we plan to repeat soon in Corella. See you there!
José Félix Catalán
Cursillo de Triciclo en Zaragoza.Estuvimos 10 personas voluntarias aprendiendo a pilotar el triciclo 6 horas de cursillo muy lucrativas.Te montas en triciclo y salen las sonrisas solas ¿te imaginas la cara de nuestros abuelos?Gracias en bici sin edad Zaragoza – La Cicleria y a Laura, Dani.

Publicada por Juan Luis Echarri Chifly en Miércoles, 5 de diciembre de 2018