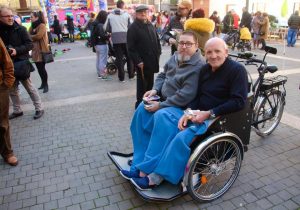 "Cycling Without Age" (CWA) officially started in Corella today, December 22, with two residents of Hogar San José retirement home. Juanjo and Felipe, our first CWA passengers, have enjoyed a two-hour ride all around Corella in the winter sun. Felipe has shared his thoughts and feelings with us:
«The ride on the "Yayacleta" ("Nanacycle") this morning has been one of the most amazing experiences since I moved to Corella, and this is my 6th year here. At the beginning, the weird vehicle looked like an excavator bucket with wheels, but once I sat down, I relaxed, started smiling and went on enjoying for 2 hours the nice and exciting ride. We have gone through all kinds of terrain: bumpy, flat, hilly, on tarred roads, dirt tracks… but I haven't been scared at all. Our skillful and funny pilots, Juan Luis and Adrián, dodged every obstacle, bump, and hole and made our first ride a delightful experience. They took turns to pilot the trishaw and to accompany us by bike.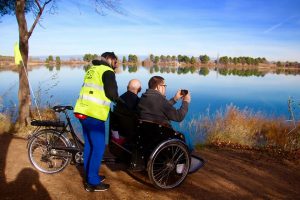 To begin with, we rode to "Plaza de los Fueros", where we had a mate infusion. Later on, Juan Luis took us to "La Estanca", a beautiful reservoir just 1 km from Corella. We rode all around and enjoyed the views, the cool morning breeze, the squirrels… It was my first time at "La Estanca" and I´m honestly impressed. I hope the photos Juan Luis took live up to the wonderful place we visited. In our way back to Corella, we went across the cemetery. It must have been the first time a trishaw visited a cemetery… We finished the lovely ride in the town center, where we had a tasty "ensalada de cardo" (cardoon salad), and came back to our retirement home.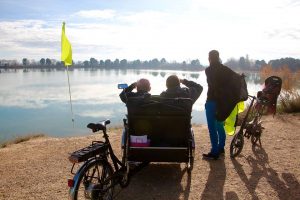 I´ve found the trishaw cycling experience absolutely positive, entertaining and rewarding. Juan Luis and Adrián are caring and good fun to be with. The weather was warm and the landscape just gorgeous. Thanks for the ride, I´d love to do it again."
Our second passenger, Juanjo, was impressed too but more laconic:
"I loved the ride. We had fun and everything was beautiful. The pilots… just fantastic."
Thanks a lot, Adrián, Juan Luis (pilots) and Felipe and Juanjo (passengers) for starting CWA in Corella!