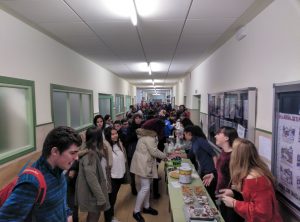 Alhama High School organized tons of activities for all age groups on December 21st: scavenger hunt, massage, Rubick´s cube, and poetry workshops, trivia in English, Berber dances, futsal tournaments… Besides, we attended talks offered by Alcoholics Anonymous and Red Cross.
Meanwhile, we (Erasmus ambassadors) set up stalls to sell Arab sweets, Christmas cookies, potato omelettes, truffles, hot chocolate, Christmas figures, etc. to raise money and buy the «Yayacleta», our tricycle for elderly people. In addition, we put on sale the fifteen lamps (decorated bottles) that we all made on Monday afternoon as part of the Erasmus. By the way, there were only four left! We are so good at selling …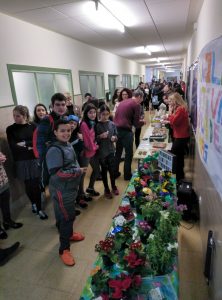 The French department sold crêpes and Orientation department some beautiful plants. We raised € 182.67 and, what a pleasant surprise!, the counselors donated the € 80 they got by selling plants. We obtained € 262.67 overall. Oh, I forgot: two ladies of Biciclistas de Corella, who are our partners in the Erasmus project, sold shirts, cups, sweatshirts…
The market was colourful and entertaining and the atmosphere just great. It was a very fun morning and everyone had a great time. The sweets and tortillas were very tasty. I danced and taught Berber dances and the boys played a futsal tourney at the sports center.
To finish the hectic morning, we put away our stalls, gave away the sweets and hot chocolate that we hadn´t sold and went upstairs to meet our tutors and receive our reports. We waved everybody goodbye and wished all the teachers a happy holiday.
Merry Christmas for Alhama High School and European partners on behalf of the Erasmus ambassadors!
Inés Belahrizi, 3th ESO (15 years old)