By Cristina Gallo and Toño Peña
Covid-19 era has brought new habits to our life under lockdown: we play never-ending board games, tidy up books, clothes, order closets, do big clean-ups, slow cooking, indulging in series binge-watching… We decided this weekend to go on a new exciting, almost reckless, adventure: to tidy and clean up our junk room downstairs.
We found plenty of useless things that we threw out right away but there was something that surprised us a lot and brought back fond memories: the countless drawings that Primary and pre-Primary students did in 2006 in «Better Biking» (Mejor con bici) campaign in 2006. We threw away most of the drawings because there were too may but saved some 15-20, the best of them.
Two of the drawings caught our attention. The authors were Elba and Laura. I've been teaching for more than 20 years in Corella and, as far as I know, there's only one Elba in our village. This girl was 3 years old in November 2006. The drawing she made was not, let's say, very figurative but absolutely gorgeous. Her friend's (Laura) drawing was equally abstract and precious (see below). And who are Elba and Laura? Two of the most active Erasmus ambassadors currently. They participated in the LTT we did in Copenhagen in October 2019.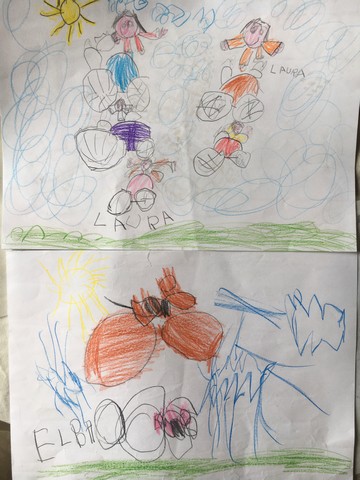 We've saved and want to display the best drawings to pay a tribute to all the students who have supported our campaigns throughout the years and contributed time and passion to make our school, and Corella as a whole, a much better place to be, learn and enjoy.