By Damien O'Tuama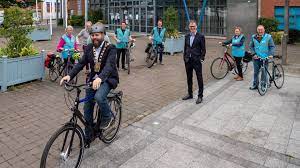 South Dublin's Mayor Peter Kavanagh was presented with his official bicycle by Dublin Cycling Campaign at a special handover ceremony at the Clondalkin Civic Offices on Wednesday morning.
The Mayor's bicycle was handed over by the outgoing Mayor, Ed O'Brien, in what is hoped will become an annual tradition. The Mayor's bicycle was funded by Dublin Cycling Campaign and its supporters. The bicycle is a Dutch-style city bicycle, which was provided at cost price by the Dutch Bike Shop in Lucan. The bicycle, a Gazelle CityGo C3, is a robust city bike. It comes equipped with a sturdy rear carrier to carry all of your belongings. The front and rear lights are integrated in the frame and are operated by dynamo, so batteries are a thing of the past. There is a ring lock on the rear wheel for brief stops but a sturdy D-lock is required for longer stops.
The official bicycle provides the Mayor with a sustainable mode of transport that is efficient, healthy and emissions-free. As we face up to the climate crisis the official bicycle offers the ideal transport solution to our Mayor. The bicycle is a visible manifestation of a new era where officials in authority lead by example in efforts to tackle climate change.
Cycling has provided a lifeline to many people during the current public health crisis. The pandemic has seen thousands of Dubliners take to their bikes, with cycling offering people a means of getting around their locality quickly and conveniently, while also freeing up vital space on public transport for essential workers.
https://www.dublincycling.com/cycling/south-dublin-county-councils-mayor-presented-official-bicycle