By Jasmine Akrim and Sabrina Madani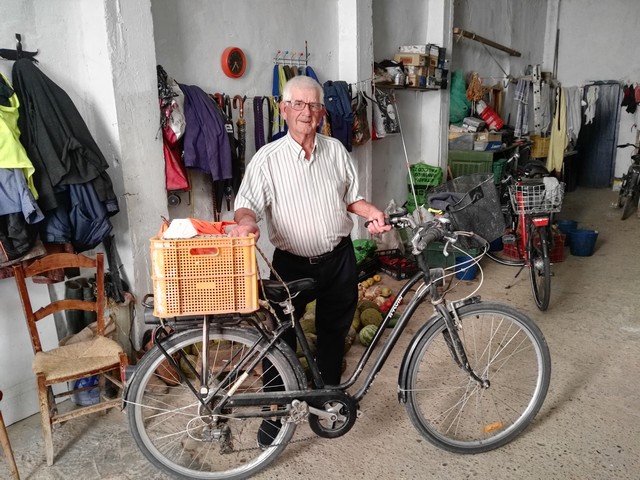 We go on honoring our elders. Santiago Delgado, 90, whose nickname is «Musa», will receive the award «A whole life cycling» on Sunday, September 19, at 12:30 in Plaza de España square. Santiago is a very humble, easy-going and joyful man who at 90 years of age continues to go to his green garden every day and run errands with his bike and his basket. Santiago embodies all that we love so much about rural life: proximity and closeness, traditions, sense of community, the flavors and smells of the land, a past of emigration, simplicity, deep-rootedness, those fruits and vegetables freshly brought from his allotment in his basket … Jasmine and Sabrina, two Erasmus students, interviewed him in his unique «bajera» (a kind of multi-purpose rural basement):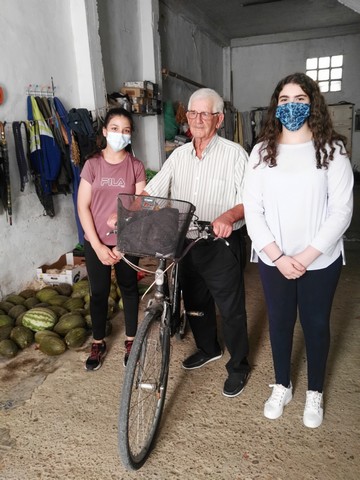 Jasmine: When did you start cycling?
Santiago: In my young days, almost no one had a bicycle. There were a couple of shops that repaired and rented bikes. Sometimes, for little money, we would go pedaling to the nearby villages. When there was football, the rent cost less and we went to cheer on the Corella team. Jasmine / Sabrina: And then, did you continue with cycling? Santiago: My life took many turns and cycling was not my number one priority. There was no work in Corella and I went to France to harvest beets two years. They treated us well there but we worked a lot. Later, the Spanish government signed an agreement with the Australian one and more than 100 of us showed up to go to work there. Some doctors did some tests and selected seven of us from Corella. Many people came from other towns as well. We got on the ship in Bilbao and 31 days later we arrived in Melbourne, passing through Cape Town, South Africa. In Australia I spent 11 years. Then I went back to Corella and here I stayed. In those days I used to move around with a motorcycle, but I had an accident at 68 and I switched to cycling. I use my bike to go to Villar, to my green garden, to run errands … everywhere.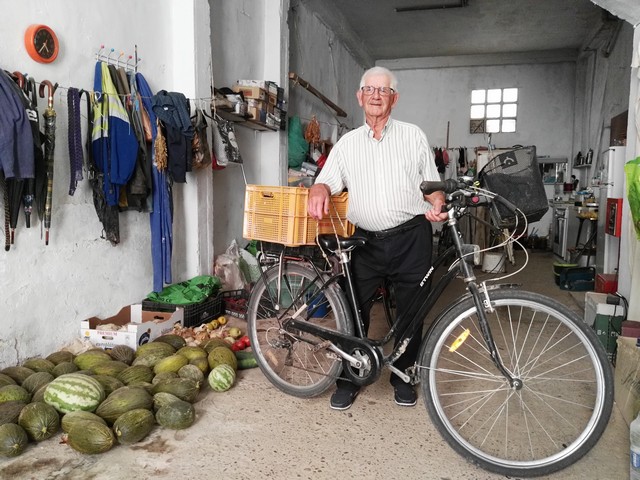 Jasmine: What's life like in Australia?
Santiago: It is a very nice country, and its people, too. I had a girlfriend from Madrid and we kept an epistolar relationship for a long time, but we broke up eventually. After five years in Australia, I returned to Spain. I went to Madrid with my friend Pilo, I met a girl from La Mancha called Manoli, we liked each other and we were courting for seven months. She lived in Madrid and I lived in Corella, but we used see each other on weekends. Then we got married and went to Australia. We stayed there for six more years and made life, first in Melbourne and then in Sydney and in the north of Australia. We had our two children, José and Ana, there.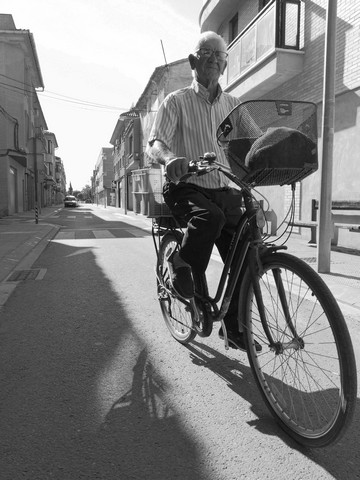 Jasmine: What does cycling mean to you?
Santiago: Well … what do I know! It is very convenient for me and it gives me freedom. I go from A to B very easily. In no time I get to my green garden, run errands, visit friends or family… I am not lazy at all. Now I have an e-bike that I bought 3 years ago, but I had a normal bike previously. Oh, and the basket that is key to carry fruits and veggies from my green garden. Look, all these melons have come in the basket. By the way, do you want a melon?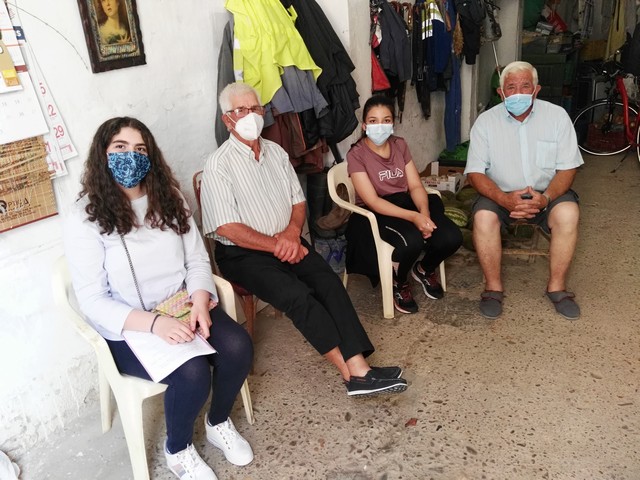 Sabrina: Does anyone in your family also loves cycling?
Santiago: My 15-year-old grandson is very sporty. He lives in Alfaro but studies in Tudela (Sports Activities in the Natural Environment). Villar, my sister-in-law, always moves around by bike too. There are many people, especially old people, who ride bikes in Corella.
Jasmine: And do you understand those people who go to the gym, to run errands, to school, to work, etc, always by car?
Santiago: Well, I don't understand them because in our villages there aren't long distances. They are such a bore…
From the other side of the basement, the voice of his sister-in-law Villar is heard: «They are just lazy!!!«